By default, all Belkin routers' default username and password is admin (username) while "blank" (leave it blank) for the password. You need to properly connect the router to your modem and PC before you can access the router using a web browser (IE, Firefox, Chrome, etc.). To access the router's GUI, all you need to do is open your browser and type http://192.168.2.1 in the address bar. You can also Go to Start, then access Run, and type (http://192.168.2.1) then hit enter. You will be prompted to enter a username and a password. Use admin for the username then leave the password field 'blank' then hit login or just click on enter. If you already configured the router and forget the password that you nominated, you should reset your Belkin router.
Warning: Resetting the router will erase all its settings and configurations and will set your router to its default settings.
How to Change Belkin Default Password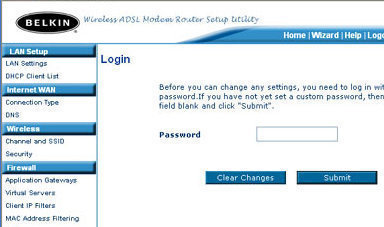 It's essential that you reset your Belkin Wireless Router's password as other users can easily access your router wirelessly and change its configuration to their liking. It's easy to change the router's default password. To do so, open a web browser then type (http://192.168.2.1) in the address bar, then in the login page, use the default username and password then click the login button. Look for the "System Settings" option in the Utilities Menu (bottom left corner). Click on it, then you will be be asked to enter the current password, new password, confirm new password. Just enter your desired password in the new password and confirm new password field.
What if you cannot login using the default Username and Password
If you can't login using the default username and password, it simply means that the Belkin password has been changed. Don't worry because you can easily reset the router to put it back to its default settings so you would be able to access the router's configuration screen again using the default username and password. To perform a hard reset on Belkin, all you need is to locate the small "reset" button (usually at the back of the router). Make sure that the router is on, and the Ethernet cable that connects to the modem is unplugged. You can use a pin, paper clip, or a toothpick to press and hold the reset button for about 10 seconds. Wait for a few minutes or up until the router has rebooted.
Router Default Password: Find default username, password & login URL of any Router
If you purchase a new router, it needs to be set up according to your ISP's network settings so that you can share your broadband connection across multiple devices. Although the manufacturer puts all the necessary information on the router's box, if you have thrown it away, you can find the default username, password, and login URL of any router using Router Default Password.
How does it work?
The mechanism is simple. Router Default Password doesn't scan deeply for your router's manufacturer. Instead, it comes with a list of manufacturers with all the necessary information. For example, if you have a D-Link router, you can navigate to the D-Link menu. You would see some router models and their username and password.
This login URL is the router's control panel URL that you need to open to set up the router or enter the IP addresses that your ISP has assigned to you. The username and password are required to log in to that control panel.
This is very easy and not much time-consuming as well. As this is a portable app, you do not have to install it on your machine. Simply download and extract the contents of the ZIP file. You will find a RouterDP.exe file. Double-click on it to run the tool.